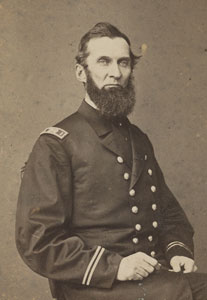 George Work. Feb 1864
George Work was appointed an acting assistant paymaster on 2 February 1864 [1]. On 19 February he was ordered to New York for instruction, presumably at the naval school that was located in the Brooklyn Navy Yard. On 22 February he received his orders to the Tecumseh as her paymaster [2].
On July 30th, two days after the Tecumseh arrived in Pensacola, Work wrote a letter to SECNAV Welles with a litany of complaints and asking to be detached after victory was won in Mobile Bay.
U.S.S. "Tecumseh", Pensacola
July 30th, 1864

Hon. Gideon Welles
Secretary of the Navy
Sir:
In consequence of my ill health; I am obliged to ask to be detached from this vessel. During the six weeks that I was on the James River, I was so unwell that I could not discharge the duties of my position. I am not allowed a clerk, and the result is I am unable to make up my quarterly returns.

The atmosphere of a monitor is too hot and debilitating for me longer to endure it and must be allowed, if I can gain your permission, to come to a cooler climate and if possible regain my lost health. The arrival in this harbor on the 28 inst, and with several other vessels here, are making preparations to join Admiral Farragut's fleet in his attack on the Forts off Mobile.

Although in bad health and scarcely able to be about, I am desirous of participating in the attack, the result of which, I am sure, will be the most brilliant of the war. When our glorious flag flies proudly in the Harbor of Mobile, I hope you will intercede in my plea and allow me to leave this vessel, come North and after a few weeks will be allowed to duty on some other vessel where I can enjoy the pure air.

Very respectfully, Your Obedient Servant
George Work
A. A. Paymaster, U.S.N.
He was aboard the Tecumseh on 5 August 1864 and reported lost with her during the Battle of Mobile Bay as reported in Navy casualty lists.[3], [4]. He was forty-five years old and had been in the Navy for seven months, never to get the opportunity to return North away from the stifling heat of the deep South and the Tecumseh herself.
---
Dependents
Awards & Memorials
Cenotaph in Grove Cemetery
, Eastford, Connecticut. Reads as follows:
NOT BURIED HERE
1819 GEORGE WORK. ACTING ASST. PAYMASTER U.S.N., LOST WITH THE USS TECUMSEH SUNK BY EXPLOSION OF SUBMERGED TORPEDO IN MOBILE BAY AUG. 5 1864
Alternate Spellings of Name
References and Sources
[1]
Hamersly, Thomas H. S
Complete General Navy Register of the United States of America: From 1776 to 1887
(T. H. S. Hamersly, New York, 1888)
[2]
"Official Intelligence: Volunteer Navy"
United States Service Magazine
, April 1864, p. 443.
[3]
"Navy Gazette: List of Deaths in the Navy of the United States, reported to the Bureau of Medicine and Surgery, Navy Department, during the week ending December 3d, 1864."
Army and Navy Journal
, 10 Dec. 1864, p. 253.
[4]
Officers and Enlisted Men who Died in the Active Service of the U.S. Navy 1776-1885
Comment